Vehicle inspection service prices
The prices include 24% VAT, except for registration fees, which are not subject to VAT. Additionally, the inspection fees include Traficom's regulatory fee of €2.73 (incl. VAT 24%). If you have a promotional code, enter it at the beginning of booking an appointment to see the discounted prices.
Periodic inspections, follow-up inspections, statutory measuring
Cars and vans
Our prices vary by service point and time. You can find all of our service points and the prices for periodic inspections and statutory measuring at any specific service point with the service point search tool and when you book an appointment. (Before confirming the appointment, you can remove statutory measuring from the appointment if the measuring has already been performed somewhere else.)
We also offer cheaper vehicle inspection timeslots for cars and vans for customers who book an appointment online. These times must be booked and paid for in advance online and they are limited.
Lease cars
If you are a contract customer of LeasePlan, ALD, Fleet Innovation or Arval, you can book an appointment at our service point as usual, or you can arrive without an appointment. After the inspection, we will issue an invoice at the checkout and send it to your leasing company. If you are a customer of other leasing companies, you should check the payment policy for vehicle inspections with your leasing company. If the vehicle inspection is urgent, you can make an appointment at our service point or come without an appointment and pay for the inspection yourself. You can check the payment policies later and collect the paid sum back from your leasing company against a receipt if the inspection is part of your contract. A leasing customer does not need separate documents for the visit. The car's owner information can be found based on the licence plate number.
Heavy-duty vehicles
For more information on inspection prices for heavy-duty vehicles, please contact our nationwide appointment booking number: +358 (0)75 323 2222.
Skip video
Which vehicle can I book a cheaper vehicle inspection timeslot for?
Find more information on cheaper vehicle inspection timeslots by watching an informational video by A-Katsastus. (Video is in Finnish.)
A-Katsastus advises – Cheaper vehicle inspection timeslots
Autotohtori car condition inspection
A thorough and objective assessment of the car's condition, carried out by an expert, duration approx. 60 minutes. Available for cars, vans and campers (maximum weight 3500 kg).
| | |
| --- | --- |
| Autotohtori service | 99.00 |
| Autotohtori service with a periodic inspection | 79.00 |
Registrations
VAT 0%. Regulatory fees are not subject to VAT.
| | |
| --- | --- |
| Vehicle registration plate | 5.50 |
| Registration plate to replace a lost or damaged one | 7.50 |
| Registration notification without appendix | 8.50 |
| Registration notification with appendix | 19.00 |
| Print of registration certificate (parts I and II) | 8.50 |
| Copy of technical part | 8.50 |
| Transfer permit | 15.00 |
| Print of a technical part of registration certificate | 0 |
| Decommissioning from | 19.00 |
| Commissioning for traffic | 0 |
Special inspections
| | |
| --- | --- |
| Registration inspection for a damaged vehicle | 190.00 |
| Registration inspection for an EU type-approved vehicle | 159.00 |
| Extensive registration inspection | 280.00 |
| Modification inspection | The price varies by service point. Check the price from our nationwide customer service, tel. 075 323 2222 or contact us via the Feedback form. |
| Vehicle pick up inspection | €50 (maximum distance 20 km in one direction) plus service point specific vehicle inspection + statutory emissions measurement fee. Only available at some service points. |
How can I pay for my visit?
We accept Finnish bank cards, most common credit and debit cards, and cash payments. You can also pay in advance for the services you have booked online. Cheaper vehicle inspection times always require an advance payment. Our online payment service is provided by Checkout. Choose the payment method that's right for you from a variety of options.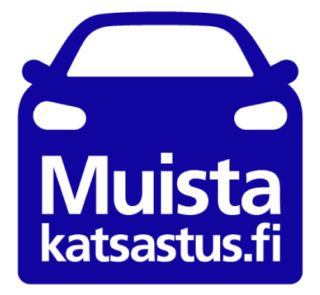 Do you sometimes forget to take your vehicle for an inspection?
When you subscribe to A-Katsastus' Muistakatsastus.fi service, you will get a reminder when the last vehicle inspection date is approaching. Subscribe for a reminder and you can win a vehicle inspection gift card!